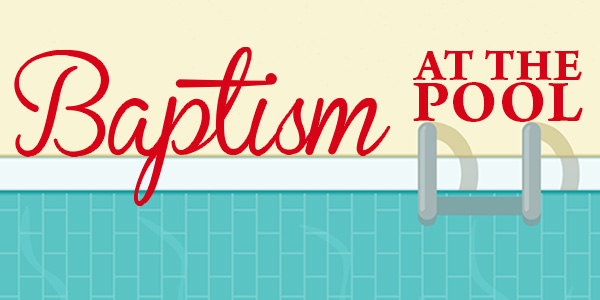 Saturday, November 14th, 2015
Church-wide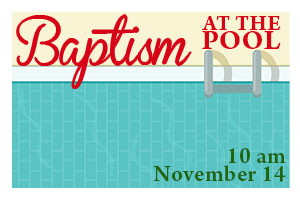 One Baptism – Two Locations
10am, Saturday, November 14, 2015
All Campuses

Few things around here are as inspiring as our baptism services. The testimonies of how God has changed lives are just priceless. If you'd like to be baptized, or would just like to come watch, we'd love to have you!

The next Baptism will be at 10am on Saturday, Nov. 14th at the Palm Bay Aquatic Center for Melbourne and Sebastian and at the Rivera home for Viera. There will be an instructional class for all participants on Sunday, Nov. 8th at 12:30pm in the Melbourne Chapel, room 206 in Viera and room M104 in Sebastian.

Please sign up below or at the Information Center in Melbourne, Viera or Sebastian using the iPads under Special Events.
You may also sign up by texting "baptism" to 321.732.6444.

Maps and handouts on the Biblical basis of baptism are also available.

Melbourne

Sebastian

Viera

Whether or not you're being baptized you'll be blessed, so bring your family and join us for this heart-warming event as part of God's family! Call the church office at 321.952.9673 for more info.

What is Water Baptism?
Water baptism by immersion is a scriptural practice of the early church that we uphold today. Baptism was commanded by Christ (Matthew 28:19); and Jesus was also our example (Luke 3:21,22). It is important that as Christians we understand what baptism is, what it represents, and what it does and does not do for us.

Baptism is a joyous occasion for the believer. It is an opportunity to declare to the world that we have been redeemed and set free by the blood of the Lamb - our Lord and Savior, Jesus Christ. We are a new creation in Christ (II Corinthians 5:17) - reckoned dead to sin, "but alive to God in Christ Jesus our Lord" (Romans 6:11). Baptism is an act of obedience (Acts 2:38), and is meant for believers (Acts 2:41, 8:36-38, 10:44-48, 18:8).

Baptism comes after an expressed belief in Christ as the Son of God (Acts 8:37). Therefore, we are baptized in response to what Christ has done for us. It is an external witness to those around us that there has been an internal, spiritual work done by the power of the Holy Spirit, through the death and resurrection of Jesus Christ.

The death of our old (sinful) nature and the birth of our new nature in Christ are symbolized by our immersion under water and our being raised up (Romans 6:3-4; Colossians 2:12). Behind this external baptism lies the true baptism - that of the shed blood of Jesus Christ; as well as the inward operation of the Holy Spirit, moving us to live, move, and act in faith.
If you have questions, please email Sharon.