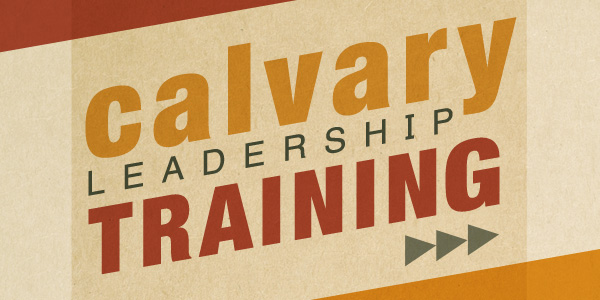 Melbourne Campus
Calvary Leadership Training
Thursdays, January 31 – March 14. 6:30-8:30pm
Location: Melbourne Campus Room D212
Cost: Free
Calvary Leadership Training (CLT) trains present and future ministry leaders in practical, Biblical leadership principles. Participants will also be equipped with various skills, experience and knowledge to make better plans and decisions in their ministry roles. Use of breakout groups, homework, role playing and apprenticeships will be used in addition to the classroom teachings.
Participants in CLT must be at least 16 years old, a Christ Follower for at least six months and agree to:


• Miss no more than two sessions. Listen to and turn in a one-page summary of the missed session.
• Complete and turn-in all homework within the given time period.
• Keep a notebook or electronic folder of notes and handouts of sessions.
The following three books are to be read by everyone who serves at Calvary Chapel. If not done while taking this class, the three books should be read before you begin to serve:


• Calvary Distinctives, by Pastor Chuck Smith
• 5 Core Commitments by Pastor Mark Balmer
• On Being a Servant of God, by Warren Wiersbe


The books are available at a reasonable cost through Watermark Christian Store located on both the Melbourne and Viera campus. You may also share books among friends.
Participants who have completed CLT are not guaranteed a leadership role but may be placed in a group of potential candidates for future ministry leadership positions.
Sign-Up
If you have questions, please email Kassi.