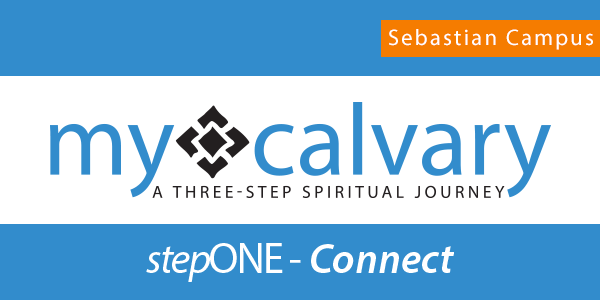 Sebastian Campus
my calvary
Step One - Connect
March 3, 2019
12:30 PM
UCOS 
Multipurpose Room

Step One -  Connect
God has an incredible purpose for your life and wants you to live it out in everyday life. my calvary is designed to help you experience real life transformation and become a fully developed follower of Jesus. Take this three-week journey to connect to the church, discover your purpose, and use your God-given gifts to serve God and people.
Held the first Sunday of every month. In Step One of my calvary you'll learn more about the heart and vision of Calvary Chapel, from our story, core beliefs, mission statement, and so much more. You'll learn why it's important to be connected to the church through small groups and serving so that you can get plugged-in and experience all God has for you as one of His own.


Childcare is provided up to age 12. We invite you to get started with Step One of my calvary.
If you have questions, please email Barb.