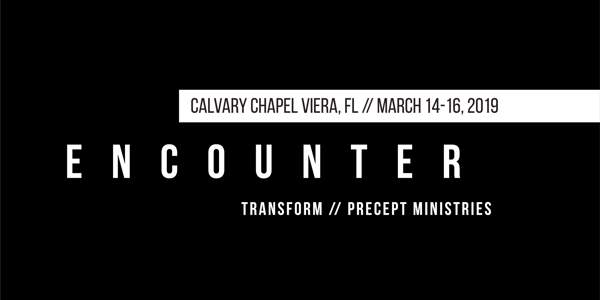 Viera Campus
2019 ENCOUNTER Student Conference
March 14 - 16, 2019
Viera Campus


Temptation is everywhere, right? How do we live victoriously in a world that wants to take us down? This March, get the strength you need at the Encounter Student Conference. This scripture-centered, small group-oriented conference will show you how to stay focused and help others engage in relationship with God through knowing His Word. Together, we will explore the 40 Minute study - Fatal Distractions: Conquering Destructive Temptations. 
This conference is designed for students ages 12-18 (7th-12th grades) and adult leaders. Students must be 12 years old by the date of the conference. Adult leaders include pastors, youth volunteers, small group leaders, parents, or family friends. They're responsible for the group of students they bring to this event. We suggest for every 5 students, 1 adult leader register. We will offer FREE registration for adult leaders and will provide training on how to effectively lead Bible study discussions prior to and throughout this event.
This conference is a GROUP event. The goal of this structure is to come with your community to learn together and then go home deepening your relationship with God and with each other as you continue studying the Word. We believe that by gearing the conference toward small groups we will better equip adult leaders to disciple their students and encourage students to grow into leaders too. If an individual is interested in attending and does not have a group leader, please contact Kevin Winn at
kwinn@calvaryccm.com
to be placed in a group with Calvary Chapel Viera Youth.
If you're wondering what makes this event unique, then check out this
VIDEO
to see what a youth pastor has to say about his ENCOUNTER experience?
Register
Ticket prices listed below:
Student Conference Ticket - $89.00 
Leader Conference Ticket - $0.00 (We suggest 1 leader for every 5 students.)
*Conference ticket includes lunch and dinner on Friday only. Excludes housing.  
 

NOTE:

Calvary Chapel's Melbourne Campus is open for sleeping/shower arrangements to 30 people. Contact Jackson Edwards jedwards@calvaryccm.com. The first 30 participants to contact him for reservations will have lodging for free. Here is hotel information if you would like the conference event rate.
If you have questions, please email Jeff.