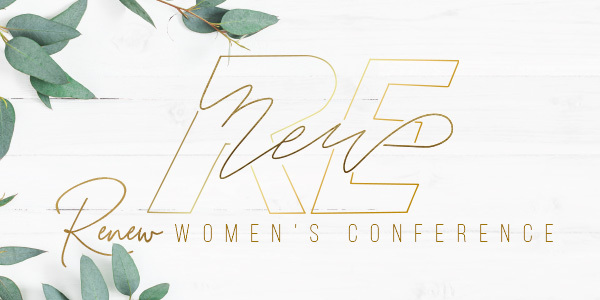 Melbourne Campus
2019 Renew Women's Conference
September 20 - 21, 2019
Melbourne Campus


Life is filled with so many responsibilities that we can sometimes feel like we're running on empty. When we look to recharge it can be easy to think a vacation, relationships, food, or technology can revive us, but the truth is the only thing that can truly renew our soul is Jesus. God has not designed us to be able to do everything but to rely on Him for everything we do.

So often we let our emotional, mental, and spiritual health take a back seat to checking off to-dos and being super-woman. This fall, take time for you. Take time to renew your love for God by rebuilding your relationship with Him. God can restore you today, reviving your soul and giving you a renewed passion and zeal for Him and His Word.

Join us for our Renew Conference September 20 & 21 as Kay Arthur and Courtney Veasey help us examine our lives and renew our love for the Lord. These ladies love to dig deep, so come focused and ready to go. Sign up early so you don't miss out on this life-changing conference.  Kay and Courtney are getting ready as we gear up for an amazing weekend!  
"Create in me a clean heart, O God, and renew a steadfast spirit within me." Psalm 51:10
Please use your legal name when you register.
Register
Student Registration
For homeschool registrations, please contact conferencesupport@calvaryccm.com 

Schedule
*Student registrations will require student ID at check-in and student ID number must be provided during registration

*There are no refunds or exchanges

Please contact us 
conferencesupport@calvaryccm.com
with any questions.
For our out-of-town guests, the following hotels - located within minutes of Calvary Chapel Melbourne - will be extending special rates for conference attendees.
Contact the hotel to receive your Renew Women's Conference Rate. 
Residence Inn by Marriott Melbourne
1430 S. Babcock St.
Melbourne, FL  32901
321.723.5740
Courtyard by Marriott
2101 W. New Haven Ave.
Melbourne, FL  32904
321.724.6400
Reserve Your Room
If you have questions, please email Rose.