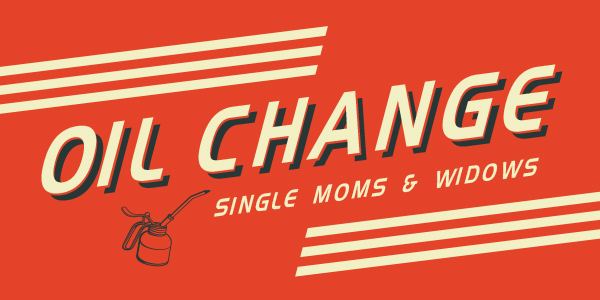 Melbourne Campus
Single Moms and Widows Oil Change
June 1, 2019
8:00am - 1:00pm
Kopf's Auto Repair
6945 Sonny Dale Dr
Melbourne, FL 32904
Life can be tough for single moms and widows. Not having spare time or money can be a constant struggle...with work, maintaining the house, and every other responsibility in your life, the simple act of getting your oil changed can be a major undertaking. We want to show you the love of Christ in a practical way by taking care of this for you.
This opportunity is open to single moms (with children at home) and widows only. There is absolutely no charge. We do not accommodate vehicles that require diesel or synthetic oil.
This is by appointment only. You must sign up at the Info Center in the Commons.
Men, if you would like to volunteer your time and skills to help out these women, you can also sign up at the Info Center. Contact the church office for more information.
If you have questions, please email Kassi.