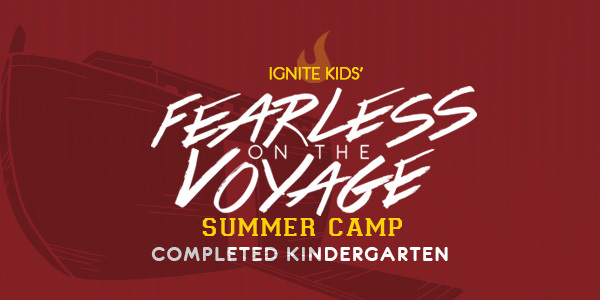 All Campuses Welcome
Fearless Camp 2019 Completed Kindergarten
July 8-12, 2019
9:00 AM - 12:00 PM
Melbourne Campus
Sanctuary
Are you F-E-A-R-L-E-S-S…without fear…ready to leap into new adventures...?
Or are you F-E-A-R-F-U-L...full of fear…scared to try anything different…?
God encourages us to be fearless, and that requires bravery, courage and faith. God doesn't want us to be fearful. WHY? Because He is always with us, and because through Him we can do ANYTHING!
If you're up for anything with God, and are a completed kindergartner, then FEARLESS SUMMER CAMP is just for you! Join us July 8-12 from 9am-Noon for a grand week of adventure. The cost is $18 for the whole week of activities, crafts & snacks, as well as the choice to learn a dance and perform it Friday night, pick creative arts and display your work or select Legos and be challenged through fun learning activities.
Rush into exciting activities like dance, creative arts, or Lego challenges. Replenish yourself with yummy snacks. Refresh in Bible lessons and small group time. Renew your creativity through special crafts.
Put all FEAR aside…Join the adventure and get FEARLESS this summer
If your child has any special considerations, please email Brenda Schulze
If you would like to volunteer during our camp, please see Quick Serve for our areas of need. Search the keyword FEARLESS
If you have questions, please email Brenda.