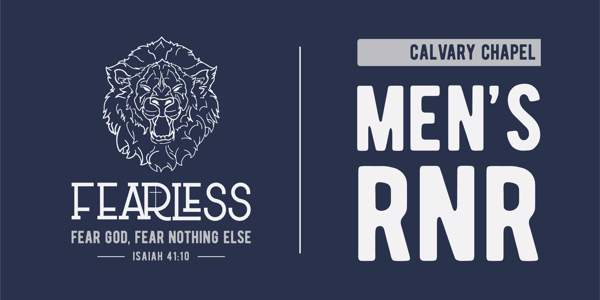 Melbourne Campus
Men's RnR
Fearless
November 1 - 3, 2019
Lake Aurora Christian Retreat Center
237 Golden Bough Rd
Lake Wales, FL 33898



Men, today we are under attack everywhere we go. We can see it and even feel it in our everyday lives. Our families, purity, integrity, and even our identity is in the cross-hairs of the enemy. While our first response might be an attitude of fear, the Bible shows us a better way. God has given us the Holy Spirit to empower us to be fearless at every turn!
Do not fear [anything], for I am with you; do not be afraid, for I am your God. I will strengthen you, be assured I will help you; I will certainly take hold of you with my righteous right hand [a hand of justice, of power, of victory, of salvation]. - Isaiah 41:10


At this year's RnR men's retreat, learn the true value of living under the shelter of the Almighty. Together with 300 other men, experience God in a truly amazing way through fellowship, worship, teaching, and rest.
REGISTRATION | special incentives to register early
Register 8/3-8/18: $120 PLUS a free t-shirt
Register 8/17-10/13: $130 PLUS a free t-shirt
Register 10/14 and after: $130 and NO shirt
Register
Sorry, no refunds or exchanges
Breakout Groups - 
Fearless to be free from addiction
Fearless in our walk
Fearless to lead
Fearless to be full in the Spirit
Sports - 
Flag football
Soccer
Volleyball
Softball
Frisbee Golf
Tournaments - 
Basketball
Cornhole
Gaga-Ball
Packing List - 
Bible, Notebook, Pen
Air Mattress (only if you cannot sleep on thin foam mattress)
Bug Spray (with Deet), Sunscreen, Hat & Sunglasses
Flashlight & Folding Lawn Chair
Jacket, Sweatshirt, Rain gear (just in case)
Pillow & Sleeping Bag (or twin sheets/blanket)
Toothpaste, Toothbrush, Soap, Shampoo, Towel (1 for bathing, 1 for swimming)
Athletic Wear, Sneakers, Swimsuit
If you have questions, please email Kassi.